NOTE: This contest is OVER. The lucky winner was: Weathervane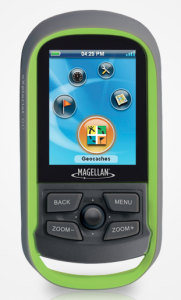 Welcome to a great new contest, brought to you by PodCacher.com - the podcast all about geocaching. If you are new to the podcast, welcome!
Every week the PodCacher show brings you geocaching & GPS news, tips and tricks, tools of the trade, interviews, caching events and stories from around the world. This FREE, family-friendly, fun show is great for both the beginner and veteran geocachers. Take a look around our site and be sure to check out the many shows full of geocaching goodness!
We're excited to give you a chance to win a Magellan eXplorist GC donated by Magellan.
To enter this contest, fill out this simple form.
Then, spread the word about this contest (twitter, facebook, forum posts, email, carrier pigeon) to your geocaching friends to increase your chance of winning!
Send them to the following URL: podcacher.com/exp (this page)
YOU will get an extra contest entry for each person who mentions YOUR geocaching name as the way they heard about the contest.
Contest entry deadline: Oct 5, 2012
Winner will be chosen by dice roll and will be announced on the PodCacher show immediately following the deadline date.