NOTE: This contest is OVER. The lucky winner was: s1mplys1m0n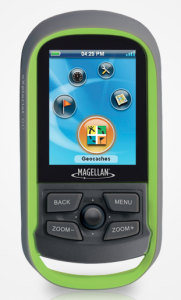 Welcome to a great new contest, brought to you by PodCacher.com - the podcast all about geocaching. If you are new to the podcast, welcome!
Every week the PodCacher show brings you geocaching & GPS news, tips and tricks, tools of the trade, interviews, caching events and stories from around the world. This FREE, family-friendly, fun show is great for both the beginner and veteran geocachers. Take a look around our site and be sure to check out the many shows full of geocaching goodness!
We're excited to give you a SECOND chance to win a Magellan eXplorist GC donated by Magellan.
To enter this contest, fill out this simple form.
PLEASE NOTE: You can earn up to THREE extra entries by tweeting, posting on your facebook wall, and mentioning the contest in a forum post. Here's what you must say: "If I win the GPSr from podcacher.com, I would __(fill in the blank)__"
Contest entry deadline: Nov 30, 2012
Winner will be chosen by dice roll and will be announced on the PodCacher show immediately following the deadline date.