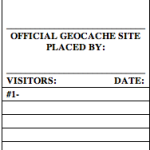 One thing we love to share on our PodCacher show are tips and tricks - for newbies and veteran cachers alike. On one show we talked about geocaching on a very rainy weekend, which is a bit unusual for us here in Sunny San Diego, but it does happen! We encountered a small container with a rolled up log that was completely drenched. Now as you all know, there are few things worse than a totally wet log in a geocache (well, except no geocache at all!). The one requirement for logging a geocache and getting a smiley (other than actually finding it) is to sign the log. This is very hard to do when the paper is damp or soggy. It's always a good idea to carry spare logbooks or logsheets with you in your cache bag. But the downside to replacing the log is that all the prior signatures will be gone! If you CAN dry out a log, that's an awesome thing to do for the cache owner.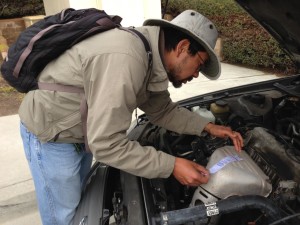 So on our recent rainy adventure, we found a very wet log-sheet in a micro container and had a decision to make. Fortunately, we were still close to our car since this was the first cache on the trail. Sonny popped open the hood and very carefully laid out the log sheet on the hot engine. The key is to get it warm enough to dry out the liquid without having a small fire on your hands! It worked like a charm and soon the log was almost bone dry. We have used a similar procedure on a sunny day on the hood of our car which was still warm from the engine running.
newnik29 shared another tip for drying out logs: "I always have napkins in my go-bag. Take one napkin and unfold it lengthwise (in should be at least as long as the log). Lay the unrolled log on the napkin so the whole log is in contact with napkin surface. Fold the napkin once over the log and roll the whole thing back up just like you would have rolled the log by itself. Once the napkin and log are rolled up, give it a good squeeze - this is the important part! Once you have pressed the whole thing in your fingers, carefully unroll the log and napkin and remove the log from the napkin. The napkin should be soaked and your log, while maybe not bone-dry, should be dry enough to sign even with a ballpoint pen."
bulcacher chimed in with this suggestion: "I have dried several wet logs on my car's defroster. I toss them up in the windshield and turn on the defroster. It dries them out very quickly.
To hear more about our log-drying tip, listen to show 459.