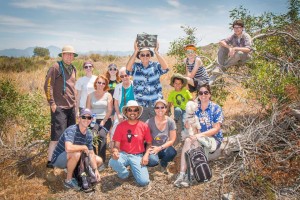 Here are some tips and ideas for hiding a tribute geocache. If you have ever browsed the geocache listings and noticed the letters IHO and wondered what that stood for, it normally means "In Honor Of". A geocacher might hide a tribute cache in honor of a fellow geocacher for a lot of reasons:
– a milestone caching achievement – a thank-you for giving back to the caching community – a birthday or other event – a joke or a challenge for that specific caching friend
Another possibility for a Tribute Cache (or an IHO "in honor of" cache) is for a friend or family member who isn't even a geocacher. We did this recently for Sandy's Dad's 75th birthday celebration. Here are a few tips and things to keep in mind if you are interested in hiding a tribute geocache of your own.
First, take some time to think of what you appreciate about this person, or what interests, skills and hobbies they have. It's really cool to have a theme for the cache that is perfectly tailored to the person you're
LINKS AND MORE: Hiding a Tribute Geocache