Podcast: Play in new window | Download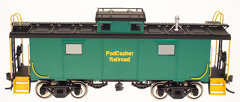 Listen To The PodCache
(Right click on a PC, or Control click on a Mac and choose to "Save� the MP3 to your computer. Then, you can load it on your MP3 player or burn it to a CD)

NOTE: See comment from Snoogans (below). This MAY no longer exist!!
This PodCache takes place in Monterey, California. (On Cannery Row near the Monterey Bay Aquarium!)
Listen to the audio clues that will lead you to a secret-hidden treasure cache.
If you find this cache, leave a comment below to log your find!