How to subscribe using iTunes alone (FREE)
In iTunes, on the left side go to Podcasts. Near the bottom, click on "Podcast Directory". Do a search for Podcacher.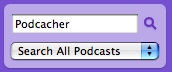 Click the subscribe button.
You are now subscribed!
Click on the button in the upper right hand corner that says "Update" to get the latest shows.


You can also click the "Get" button on older shows to download those.


Ba-Da-Bing!!!
Back to Learn How to Subscribe