If you have been geocaching for some time, you have probably come across or at least heard about a Travel Bug Hotel. But if you're somewhat new to geocaching, or you live in a place where they just aren't common, this might be a new term to you.
So let's start with a basic definition. A Travel Bug Hotel is a geocache that caters to travel bugs and is meant to serve as a drop off and pick up place for them.
[Note: if you aren't familiar with travel bugs, then you should probably go read the Travel Bug FAQ to start with. Then come on back here and continue on!]
There are always exceptions, of course, but here are some general conventions when it comes to Travel Bug Hotels:
They are normally a regular or large size geocache (since it would be hard to leave even one travel bug in a micro container!)
They are often a simple traditional cache (but sometimes the cache owner will make it a simple puzzle or will hide a container with a combination lock, and the combo is given on the cache description page)
They are usually placed for easy access (near highways, airports, freeway rest stops etc.)
It can be tricky, but the cache owner needs to make the cache BOTH easily accessible but not easily muggled!
The idea of the Travel Bug Hotel is to help travel bugs get moving to their goal
They often have "Travel Bug Hotel" or something similar as part of their cache name so its obvious what they are (BUT not everyone thinks this is a good idea since it might catch the attention of a "less-than-honest" geocacher who may take the travel bugs or trackable geocoins and keep them - yes, some geocachers actually do this terrible thing!!)
Some owners will offer suggestions about the movement of travel bugs – for example, take the same number of travel bugs that you leave – but this cannot be a requirement, according to Geocaching.com
Any geocacher is welcome to find and log the Travel Bug Hotel cache whether or not they drop off or pick up travel bugs
Travel Bug Hotels range from a simple lock-n-lock container all the way to amazingly creative and elaborately built structures and cabinets that actually look like hotels!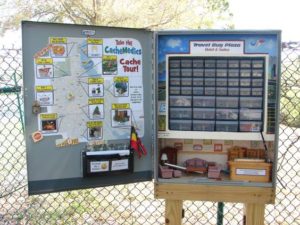 Some Resources on Travel Bug Hotels:
There are several Facebook groups that are dedicated to travel bug hotels: Travel Bug Hotels and TBHoA or Travel Bug Hotels of America.
IslandButtons has a Pinterest board with dozens and dozens of amazing pictures of travel bug hotels.
What is YOUR favorite Travel Bug Hotel? Share in the comments below!