Very First FTF
Many years ago Sandy wanted to score her very first FTF or "First to Find". As you know, being first to find on a geocache is an exciting accomplishment. It appeals to our competitive nature and being FIRST can bring about a sense of fulfillment.
I had already been caching for several years when I met Sandy, introduced her to Geocaching and she was hooked.
After several months of geocaching together, she wanted to find her first FTF. We had a couple disappointing losses (missed it by that much!). One night I was getting home from work, and had just walked through the door when Sandy told me a new cache had JUST been published.
Dinner was on the stove and I still had my coat and tie on... but I gave her a look and said "Let's go get it!"
Rushing Out The Door
We shut off the stove, grabbed the geocaching gear and flew out the door, 7 minutes after the cache published! Ground zero was about 25 miles away, and that can feel like an eternity when you're trying to score an FTF. Do you know what I mean? Have you been there?
On the freeway, there was still rush-hour traffic. GRR! (There always seems to be traffic in San Diego.) It doesn't usually bother me, but tonight, on our FTF attempt, it was exceptionally annoying. Would we make it in time? Would someone who lived closer get the drop on us? Determined, we drove on.
We parked the car and made a short walk to a dark hillside. Somewhere in that chaparral scrub was our goal! No one else was around. Things looked good.
Having been FTF on many caches, I was confident that I would be able to help Sandy quickly score her very first FTF!
Sandy was in sneakers and jeans while I was still in my dress shoes, slacks and a tie. Still, nothing was going to stop us from getting Sandy's first FTF … except …
… not being able to find it …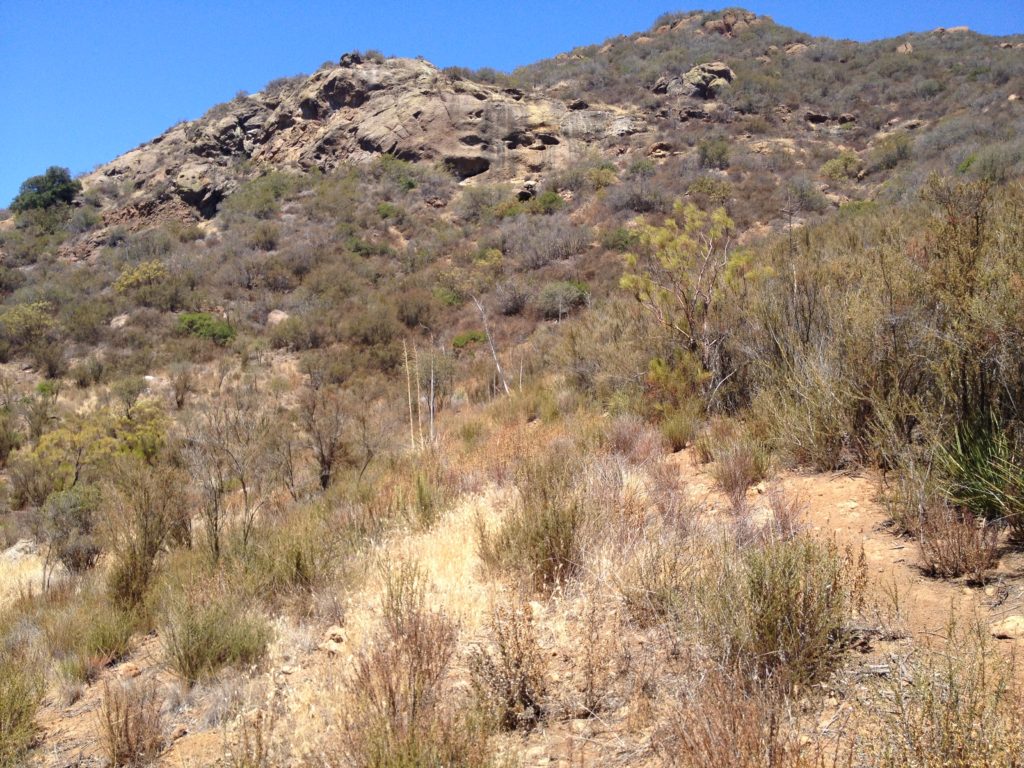 Let me describe the location that night. Although there was nearby parking, the cache itself was on a hillside covered with Southern California chaparral. On this chilly night, at this time of year, the low scrub was dry, mostly dead and scratchy. It was dark on the hill, but fortunately we were prepared with headlamps.
We frantically searched, but as time passed, we grew anxious and frustrated. After some searching we put down the backpack at GZ as a marker. This can help you avoid searching the same place again and again which is easy to do if the terrain all looks the same. Work gloves are also a great tool when searching through prickly shrubs.
After close to THIRTY MINUTES we were getting hungry, tired and grumpy. 30 minutes is a long time when you're hoping to be FTF, dreading other geocachers showing up and finding it first.
WHO is coming now?!
Sure enough, we spotted headlights and up drove a car. We were in a relatively isolated spot, so there was little chance that anyone, besides another cacher, would be here at this time of night. GRRR!
Several people got out of the car, but surprisingly didn't join us on the hill to find the cache. They just stood there and watched us for a bit. What were they doing there at this time of night? One of them eventually spoke and said "Are you looking for the cache?". We said yes, at which they said "oh we have it right here!" Had they been here before we had even arrived and took the cache away to sign it?
We have it right here!
We soon learned that they were brand new geocachers and this was their first hide. They thought that you weren't supposed to actually place the cache until after it was approved! At the same time we were searching in the dark, on that cold, prickly hillside, the hiders were enjoying a warm dinner at a restaurant. While at dinner, they got notified that their cache was published. Once they finished dinner, they drove to the cache site to actually place the cache only to find 2 cold, frustrated cachers searching in the dark, looking for a container that wasn't there.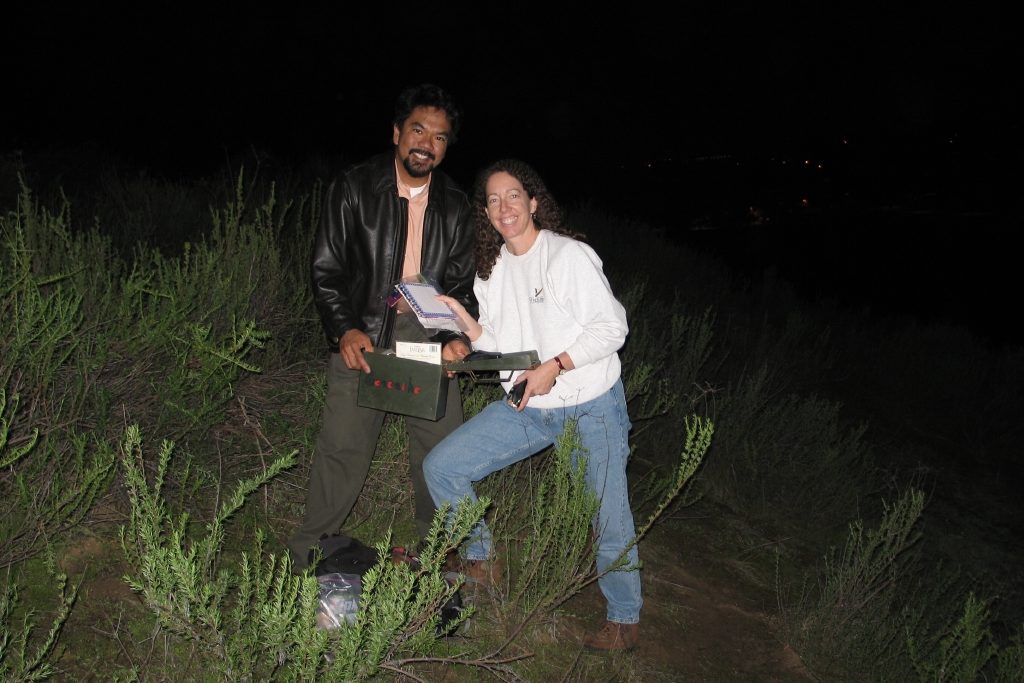 After signing the log, we drove home, tired and hungry, but satisfied and content scoring not only Sandy's first First to Find, but also coming away with a good memorable story to share.
Don't Go Yet!   If you enjoyed this story, check out some of our "How To" blog posts like "How to Find a GeoTour or GeoTrail Near You".