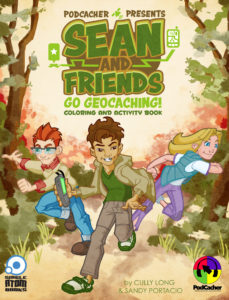 Here's your chance to get a SPECIAL version of the "Sean and Friends Go Geocaching" Coloring and Activity Book! This book will be signed and dated by Sean himself.
These coloring books were left over from our Denver Geowoodstock 14er trip and are available ONLY while supplies last!
Book cost: $10 plus shipping
Shipping within the US (book rate): $2.65
Shipping to Canada: $3.35
Shipping to all other countries: $6.98
See the choices below which include shipping costs.
THANKS for supporting PodCacher with your purchase!