This year, the World Wide Flash Mob (WWFM) XIV was also the 10th anniversary of the very first WWFM back in 2007. If you don't know about the WWFM, you can read about the history here.
In this series of blog posts, we'll be sharing with you some WWFM XIV stories from around the world. The events are as different as they can be, but they all have some things in common: a group of geocachers, a short event, creativity, laughter, and a whole lot of FUN!
Carefree, AZ
In Carefree Arizona they gathered at the famous Carefree Sundial with cowboy hats and sunglasses. They played a game called 'Beat the Clock' and the last 2 cachers won an ammo can and trackable. All others were awarded a consolation prize of a waterproof cache container.
Winnipeg, Manitoba, Canada hosted a balloon madness WWFM event in a common festival area of Winnipeg, called the Forks. The geocachers blew up balloons and gave them away to kids and adults passing by.
Geocachers in Coos Bay, OR split into two teams to play geocaching trivia at the Coos Bay boardwalk. Each team had puzzle pieces in a bag and team members would pick a piece. It if had a geo symbol on it they could take it to their puzzle. If it had a number on it they had to answer that geocaching trivia question. One team smoked the other by getting all of their pieces and finishing the puzzle before the other team earned all their pieces.
Derby UK
The Derby Book Festival in Derby UK was the location for a WWFM with a theme of "My favourite Book". Everyone came with a copy of their favourite book which they held aloft for the group photo. They were even joined by a very special muggle guest. The guest was the Mad Hatter, a volunteer in full costume who followed the crowds gathering at GZ.
The Mid-Western Ontario Geocachers in Owen Sound ON Canada held a friendly game of Pooh-Sticks. They met at the Mill Dam waterfalls and raced their sticks over the falls. They had a great time in beautiful 82 degree sunshine, and enjoyed a snack of pretzel sticks and hickory sticks.
In Harstad, Norway they started with a paper airplane competition with the winner getting the official WWFM XIV coin. They also had a competition for the best winter clothing. It was the perfect day for that with 25 hot degrees [77 Fahrenheit], a bit unusual in northern Norway.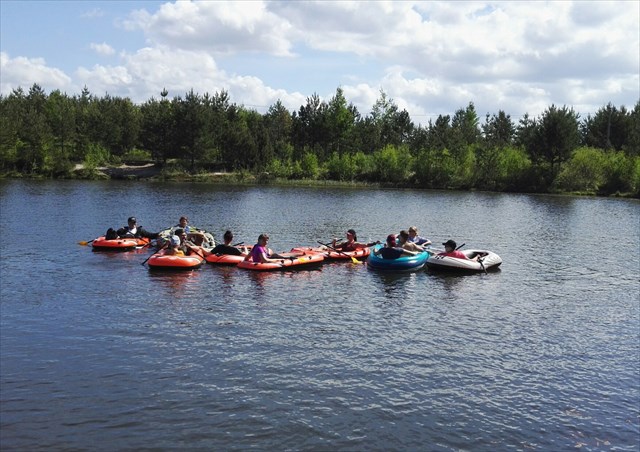 Pori Finland
In Pori Finland, the event book floated on a pond. The attendees took turns using rubber boats to paddle out and sign the book.
British Columbia Canada held a "Hands across the Border" Event. Three people from Washington State meet up with the Canadian geocachers for a handshake across the Border.
Oklahoma City chose a neighborhood park for their location. They made the event dog friendly, with dog treats and dog water for the 4-legged caching buddies who came.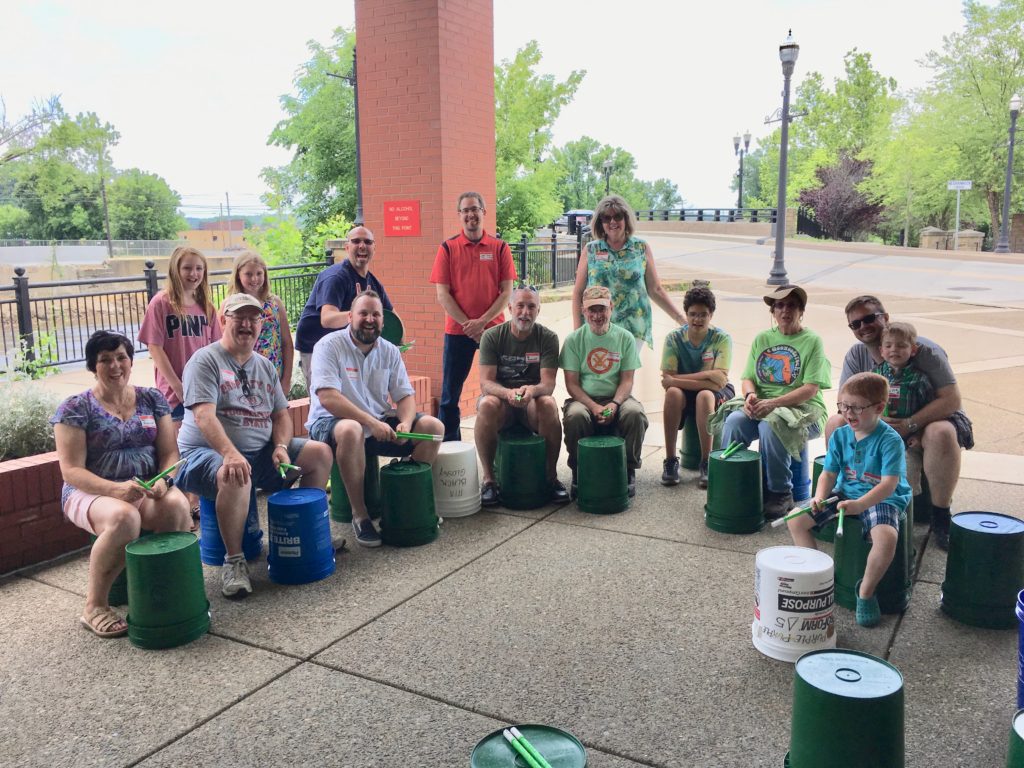 New Castle, PA
New Castle, PA had a bucket-drumming event outside a coffee shop in the downtown area. They used a bucket for everyone to sign as the log book for the event.
We hope you enjoyed those WWFM XIV stories. More to come!!
For information on future WWFM events and MORE: Join the PodCacher Insider Mailing List