This year, the World Wide Flash Mob (WWFM) XIV was also the 10th anniversary of the very first WWFM back in 2007. If you don't know about the WWFM, you can read about the history here.
In this series of blog posts, we'll be sharing with you some WWFM XIV stories from around the world. The events are as different as they can be, but they all have some things in common: a group of geocachers, a short event, creativity, laughter, and a whole lot of FUN!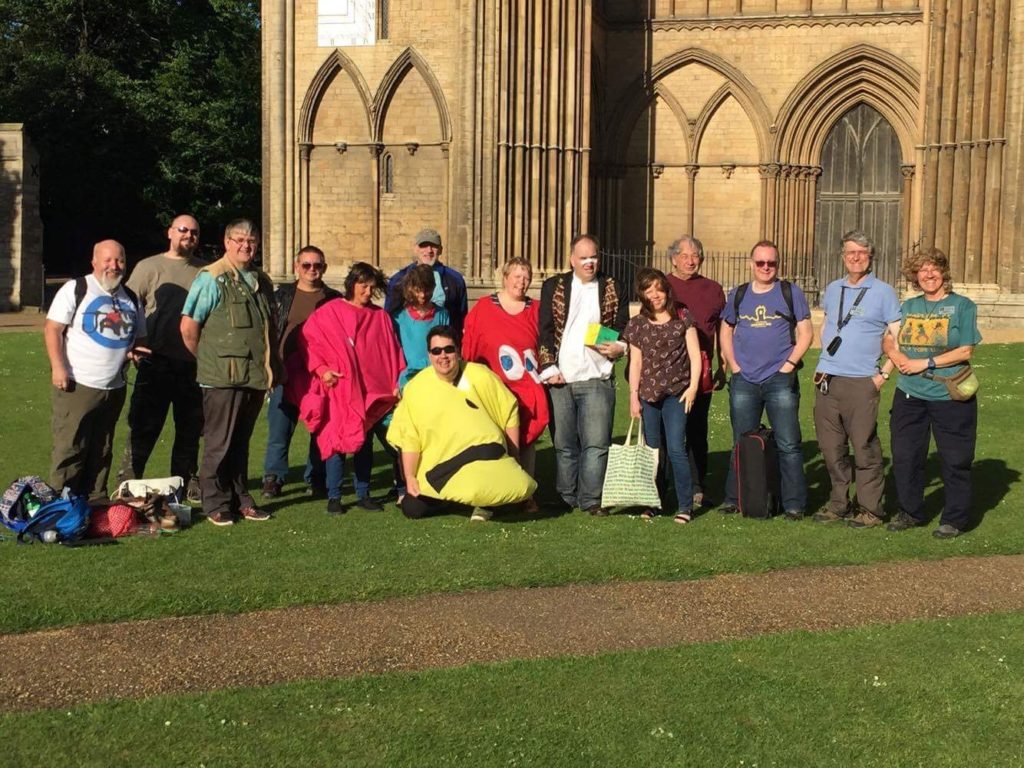 Peterborough, UK
The event at Peterborough, UK, called "Frankie says TFTC", was themed around the 1980s and held in front of Peterborough's beautiful Cathedral on a lovely and warm summer's evening. Geocachers took turns dressing up as Pac-man and his ghostly pursuers in the legendary video game, in costumes made by Mrs Beach_hut. Everyone had a fantastic time, and they had some suitably bemused looks from passing muggles including one of the clergy who was unsure what to make of the strangely dressed people hanging around outside the Cathedral.  
Geocachers in Lincoln, New Mexico held their Flash Mob on "The Most Dangerous Street in America" and it was absolutely unique - a gun (water squirt-gun) fight between the two Lincoln County War factions, the Jesse Evans Gang and the Regulators, which included Billy the Kid right near where Billy gunned down Deputies Bell and Ollinger in the famous Lincoln County Courthouse Escape.
There were several EARLY morning events – at 2:30 or 3am in Australia and 5am in New Zealand. HUGE shoutout to those brave souls who got up early to synch with the official time!! Here's a report from one of them: "For the first time in South Australia, a flash mob event was held at the exact time that matches 10am San Diego.  So at 2:30am on a freezing cold morning around 25 geocachers got out of their beds and assembled for a flash mob.  Duty done they quickly returned to their warm beds.  Hard to take a decent photo when your hands are shaking and it is dark as a dog's guts."
Edmonton, Alberta, Canada
In Edmonton, they had a blast throwing paper wad snowballs at each other while wearing weird and wacky sunglasses in June!  One person was overheard saying, "Who knew that throwing snowballs was such an aerobic activity?!"  Turns out there was a wedding arriving at the gazebo at 11:00 a.m.  The WWFM host chatted with the wedding organizers and photographer; one of them asked when the truckload of snow was arriving. The flash mob was moved to the lawn adjacent to the gazebo, and all geocachers were gone before the bride arrived.
On Prince Edward Island, Canada, the theme was "The Circus is Coming", and attendees performed various circus acts (juggling, walking a slack line, feats of strength, lion (cat) taming.
Hong Kong geocachers celebrated Iced Tea Day with a WWFM event outside the museum of tea ware in Hong Kong park. The ice tea was a welcome relief from the 30 degrees temperatures that Hong Kong had on the day!
There were partner events – in Coeur d'Alene, Idaho and Waikiki, Hawaii. In both cases the cache owner was Geocrackers. They were vacationing in Hawaii so Lookout Lisa hosted the WWFM in Idaho on their behalf. Both events did snow angels in sand on the beach.
Kissimmee, Florida
Attendees in Kissimmee, Florida gathered at a special structure, the Monument of States, wearing unique AFDBs (Aluminum Foil Deflection Beanies). Participants handcrafted their very own AFDBs for the event, providing them with safe and automatic shielding against brain scanning threats and alien mind control.  It is a well-kept secret that Kissimmee is a major hub for intergalactic space travel. There have been numerous UFO sightings over the years. To the keen observer, a tour of downtown Kissimmee reveals a number of obelisks, pyramids and other oddly shaped structures, any or all of which could be homing devices, transponders, or guidance systems for alien intergalactic travel. The Monument of States is one such structure, hidden in plain sight. The government would have you believe the Monument of States is a simply a piece of art, standing as a towering tribute to the unity of the United States. However, Believers know the TRUTH!
Zaragoza, Spain hosted a water fight and a contest of potato tortillas. Geocachers had a Nerf gun shooting competition in Calgary, Alberta, Canada.
All the cachers in Port Aransas, Texas gave their best beach-body pose for the photo. Geocachers in Dresden, Germany held a bottle-blowing concert in a tourist area.
In Beenleigh, Queensland, Australia they played Waltzing Matilda on kazoos. The geocachers in Reno, Nevada talked on old school phones in the heart of Downtown Reno.
In Alberta, Canada, attendees re-enacted a buffalo jump. San Antonio, Texas geocachers had milk and cookies in the park while meeting and greeting old and new friends.
Mont de Marsan France
Hats have always been a popular theme at WWFM events. This year, in Mont de Marsan, France, the geocachers created and wore boat origami hats for the group photo.
In Princeton, Indiana geocachers made a joyful noise with instruments. The WWFM event theme in Southampton, UK was "Hats the way I like it" asking that all those who attended have some form of headwear.
There were many events in France and Germany where everyone dressed up in orange or yellow worker vests. The Lódz, Poland event had a UFO theme and attendees wore greens and blues, and were provided with an alien mask.
In Switzerland geocachers held a "Masked WWFM" and there were some very creative masks.
All together we had 208 events in 30 countries and almost 4900 participants. Thanks to all the WWFM hosts and to all the geocachers who joined in the fun!
For information on future WWFM events and MORE: Join the PodCacher Insider Mailing List