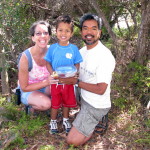 Being with YOU
Younger kids especially are longing for time with Mom and Dad (or Grandma and Grandpa, Aunt, Uncle, friend, you get the idea!). Take them geocaching! We have found that our son kinda doesn't care WHAT we do, as long as we do it together as a family. You may think this doesn't apply to older kids, but you might be surprised. We have heard from many families who shared how communication with teenagers was improved on geocaching hikes.
Being OUTSIDE
The fresh air and the sunshine (or the rain can be fun too, especially if there are a lot of puddles to jump in!). Running up that hill over there, climbing on that fence. The sticks and rocks and bugs that will find their way into pockets. The flowers that will be brought to you clutched tightly in small hands (for you, Mommy!)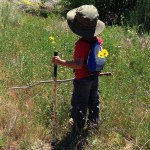 The EXPLORATION
Learning about and exploring the world around them. Searching through bushes or rocks that may be hiding the treasure. Finding out about themselves. Gaining skills in technology and navigation. Practicing with a compass or a multi-tool. Give your kids this great gift of exploration and discovery.
The MYSTERY
The idea of hidden treasure. The fun of "sneaking" around to find something special. The knowledge that we know something secret that many people around us have no idea about! As your kids get older you can teach them to be more subtle. I remember several times when our (then) 3 year old would holler loudly just as I was about to grab the cache container, "Mommy someone is coming and they might see the geocache!"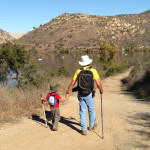 The TREASURE
Trading small trinkets (one man's junk is a little kid's treasure) is a fun part of the experience (if you have planned ahead to find large enough containers) but I rate it below the other things I've mentioned. Even if there is no suitable treasure to be found in the cache, you just might find that your son or daughter is perfectly content walking down the path, holding your hand, talking about the day's adventure, eyes alert to the next bug or flower that needs investigating, heart full from the power of your undivided attention. That is the treasure that counts the most, after all.