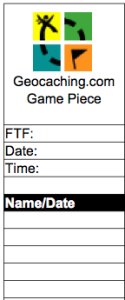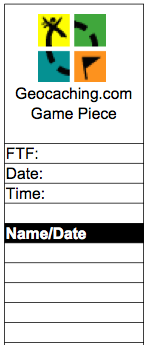 Geocaching log sheets and log books are a necessary part of our daily geocaching lives! You need them to hide caches, and they are a critical part of any geocacher's go-bag cache maintenance kit.
Here are some resources we've put together for free geocaching log sheets and related printables.
Some of these log sheets use the official geocaching.com logo, and others use the public domain Geocaching logo.
Techblazer - Log sheets in PDF format; with and without FTF blocks; with color and black Geocaching.com logos; wide variety of sizes from 0.5 inches (1.27cm) to 2.5 inches (6.4cm); also Geocache Stash Note in all sizes
Ground Zero - Printable log sheets and stash notes in PDF, Microsoft Word and PNG image formats; from 2 column (wide) to 10 column (narrow) sheets in color and black&white versions. Also available: Geocaching trackable passport and Signature CITO pamplet. Uses the public domain geocaching logo.
Island Buttons - Geocaching logbook generator - create a personalized geocache logbook cover for your larger cache hides. You can also generate a log for a geocaching event or CITO event. Logbooks available in 3 sizes (full, half-sheet, quarter-sheet). Uses the public domain geocaching logo.
Geocaching Toolbox - Print 2 versions of a log sheet and a geocache information note. You can also create your own log sheets with your own image and a short note. These have the Geocaching.com logo at the top.
Geologgers - Log Sheet and Log Book templates available in both A4 and letter sizes. There are nano, micro and small sizes as well as log booklets with 23-24 pages. Uses the public domain geocaching logo.
GeocachingStuff - Log sheets in 4 sizes: nano, small, medium and large. Uses the full color geocaching.com logo.
CacheHides - Replacement log sheets for specific geocache containers sold on the site - bison tubes, black tub, round tin, clear snap-top, golf ball cache etc. Links go straight to download, there are no pictures of the log sheets on the page. Uses the full color geocaching.com logo.
Geocaching Super Center - Log sheets ranging in size from 0.25 inch (0.64cm) to8 inch (20.38cm). Available in Color or Black&White, in FTF version or Replacement version, and in half length or full length. Log sheets have the Geocaching Super Center logo on top.