It's August and Geocaching HQ has announced the "7 Souvenirs of August" challenge. When you find certain types of geocaches, you can earn 6 different souvenirs. Earn all 6 and you unlock a special 7th souvenir. Sounds great! But wait. To earn the Socializer Souvenir, you must attend some sort of event - regular, mega or giga. You check the calendar and there are NO events near you, at least none that you are able to attend due to your schedule. You start to panic. How will you get that Socializer Souvenir?! Never fear. The answer is simple. Host your own event. That's what we are planning to do.
This post is for those of you who have never hosted an event, or have only hosted a few and are still feeling a bit unsure about the process. We aren't talking about a mega event, a multi-day event, an elaborate or expensive event. A geocaching event can be a lot of fun without being complicated or costly. Here are a few tips and things to think about to get you started.
1. Location, Location, Location. The first thing to think about is WHERE to have the event. And the answer to this really depends on what type of event you think would be fun. You could choose a park at lunch time and have people bring their own lunch or do a potluck-style where everyone brings something to share. Many events are held at restaurants where everyone is responsible for purchasing their own food and drinks. This may actually be the easiest type of event to host.
2. Date. Choose your date and time, and remember that events MUST be posted a minimum of 2 weeks prior to the event. It helps to set an ending time as well, so the attendees know what to expect and when it will be time to leave.
3. Theme. This is totally optional, but it can add a lot of fun. You can ask a few local puzzle experts to share some tips. How about asking everyone to bring some samples of their signature items to share ideas with each other. If you choose a park setting, you could plan a few fun games for kids. You can really get creative here.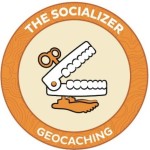 4. Preparation. If you are thinking of a restaurant, be sure to go there in person to check out the size of the space inside. Talk to a manager and get permission to host the event there. Ask about possible discounts they can offer to your group and work out the details. Find out when you need to give them an estimate of attendance. Think about what you'll do if twice that many people show up at the last minute!
If you have decided on a park or outdoor location, be sure to find out if a permit is required or a reservation is needed. Next, think about what supplies you'll need to bring. Are there tables available or do you need to bring some? Who will provide plates, napkins, cups, drinks? Is there a bathroom nearby?
5. Write a helpful description. Let people know what to expect and what to bring. If it's a potluck, be specific about what to bring. Mention if chairs should be brought for the park. Depending on your location and climate, you may want to suggest hats, sunscreen, bug spray, water, etc. Let everyone know what is being provided (tables, plates and napkins, water, etc.). Be specific about where to park (or where NOT to park, if that is a potential issue). If you have worked out a deal with the restaurant, be sure to let people know about it.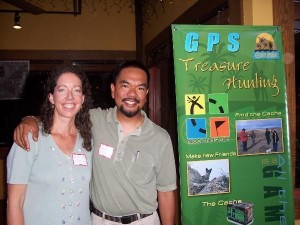 6. Supplies. Nametags are very helpful, especially for cachers who are new to the game or to attending events (and don't forget sharpie pens). You'll need a logbook or log sheet for attendees to sign. It's nice to designate a table for travel bug trading and discovery. Don't forget whatever supplies you'll need for games or other activities and perhaps some simple prizes for the kids (think Dollar Store!). If you have some extra containers, swag items, geocoins or pathtags laying around, it's always fun to have a giveaway or door prize. You could use raffle tickets, or just take the log sheet that everyone signed and a random-number generator app on your smartphone. Remember to bring MORE supplies than you think will be needed. There are always a number of geocachers who log a "will attend" at the last minute or just show up at the event!
7. Don't forget to HAVE FUN! Geocachers are fun, friendly people and we have also found them to be quite flexible. Don't worry if every little detail doesn't go exactly as planned. Just go with the flow, be friendly and welcoming, and have a great time at your event. After the planning is done, relax and enjoy it.