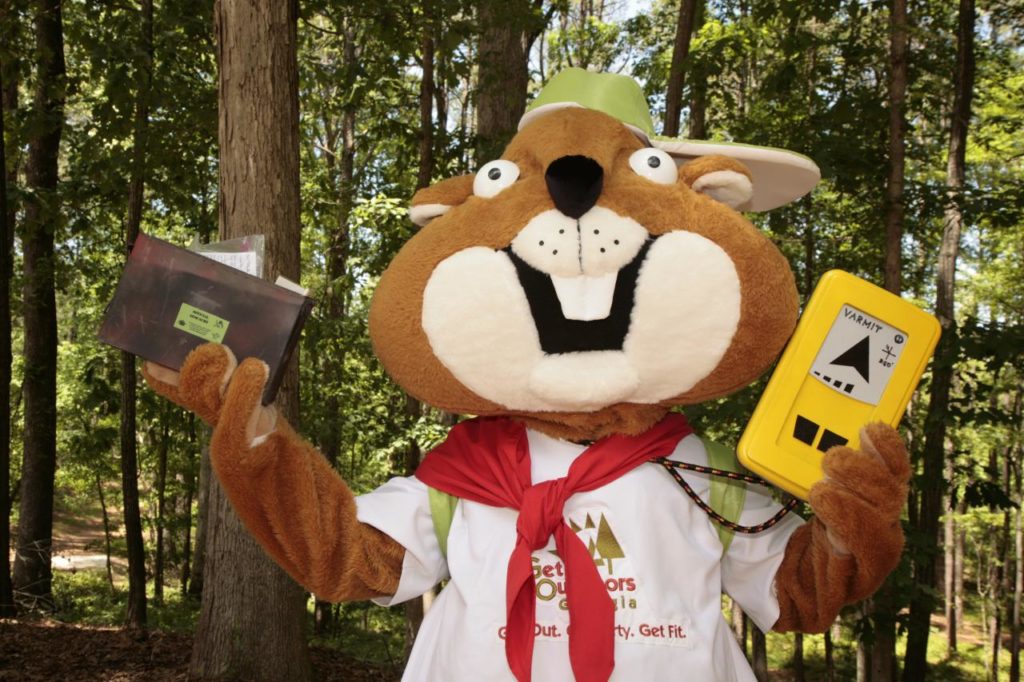 A GeoTour or a GeoTrail is a series of caches that are designed to bring geocachers to a specific location and give them a "tour" of the area through geocaching. The caches often have a specific theme and many also have historical or location-related significance.
Many tourist organizations such as visitors bureaus, state parks, chambers of commerce, etc. have come to realize the amazing benefit of drawing geocachers to their location and using geocaching to enhance their experience.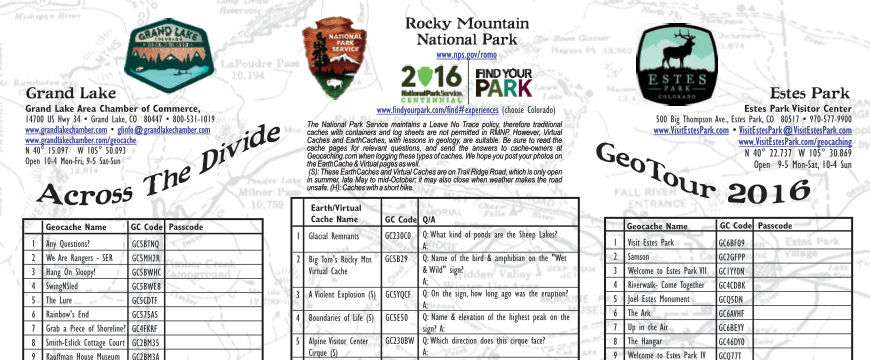 One way that a GeoTour or GeoTrail will attract geocachers to their area is by offering a reward for completing the whole trail (or finding a certain percentage of the geocaches). The reward may be a geocoin, pathtag, wooden nickel or similar item. The geocacher will usually provide proof on a "passport" document with a list of codes or stamps found inside the geocaches.
Some people use the terms GeoTour and GeoTrail interchangeably, but GeoTour has a specific component related to Geocaching.com.
GeoTour refers to an official Geocaching.com GeoTour which can be found on their website. According to Geocaching HQ, "These custom tours showcase engaging geocaches designed to introduce you to new locations." As of today (October 18, 2016) there are 68 GeoTours worldwide. GeoTours require payment to Geocaching HQ in exchange for being listed on their website along with marketing and promotion.
GeoTrail is an organized set of geocaches designed to bring people to a location, but one that is NOT an official Geocaching.com GeoTour. Geocaching HQ refers to these groups of geocaches as "Reward GeoTrails". This is in reference to the reward that is often given to the finders who complete (or find all the geocaches in) the GeoTrail.
We've had the privilege of experiencing a number of GeoTours and GeoTrails around the country and they are flat-out awesome!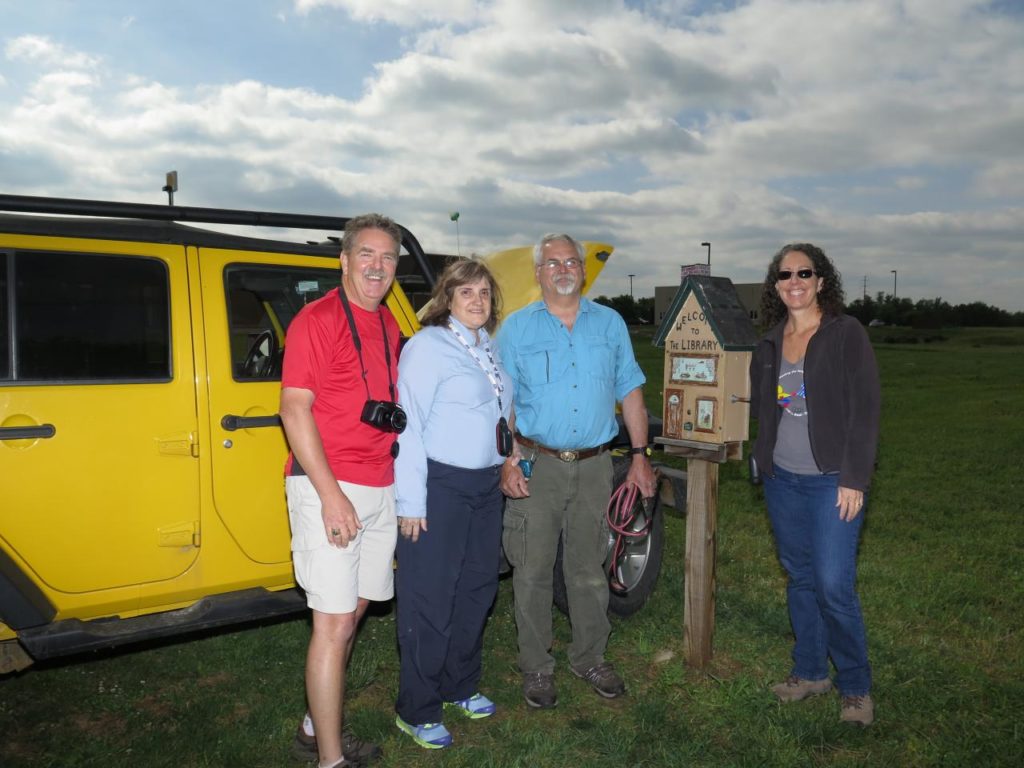 Gadgets / Mystery / Smart Caches Berkeley County (W Virginia)
WVTim is one of the masters of creative gadget caches, and his fingerprints are all over the 3 different GeoTrails in Berkeley County West Virginia. We enjoyed a personal tour and just a sampling of all the creativity and would love to go back some day to find the rest! Learn more about these amazing geocaches on Show 516 and Show 554.

We had the privilege of being at the Kick-off event for the Spokane History GeoTour and then finding a number of geocaches in the tour. We learned lots of fun historical facts about the Spokane area and had a blast along the way. We shared our adventure on Show 523.

HQ GeoTour (Seattle, Washington)
Geocaching HQ leads the way with a fun, quirky GeoTour in the Fremont area of Seattle Washington near the Headquarters office. Unique urban caches guide you to some of the more interesting sights of this fascinating neighborhood.

Joebids was our tour guide along the Jackson County Heritage GeoTrail. Fun gadget caches, a jigsaw puzzle to solve, beautifully painted ammo cans and interesting historical sights are just a few of the features of this GeoTrail. You can listen to our adventures on Show 532.

Our tour of the northern part of Georgia included quite a few stops on the Georgia State Parks GeoTour as well as the Georgia History Trail GeoTour. We truly enjoyed the forest trails, gorgeous lakes and falls, historical sites, large ammo cans and beautiful scenery we encountered along the way. Learn more by listening to Show 528 and Show 532.

The spectacular beauty of Rocky Mountain National Park is highlighted in this unique GeoTour that spans the mountains from Estes Park to Grand Lake. This GeoTour has gorgeous EarthCache and Virtual cache locations along with clever urban caches in both of the mountain villages. Listen to our interview with Fran and Jan from the Across the Divide GeoTour on Show 559.
How to Find a GeoTour or GeoTrail Near You
So now you're convinced. You need to rush right out and find the nearest GeoTrail or GeoTour in your state, province or country! But how do you find one? Finding a GeoTour is fairly easy at the Geocaching.com website, using their interactive map. But what about the GeoTrails? How do you know if there is one near you? How do you hunt for one at your next vacation destination. Here are the 2 best options we have found.
Resource #1: GeoTours and Reward Geotrails 
This table contains a list of geocaching GeoTours and reward GeoTrails, maintained by Geocaching HQ. They seem to update it fairly regularly. Right now (mid October 2016) it states that it was updated on October 7, 2016. Pretty up-to-date I'd say!
This is a Google Fusion Table that lists the GeoTours and GeoTrails with a significant amount of data about each one and also includes an interactive map. You can sort AND filter by many of the fields in the table. It's extremely helpful!
The Map displays blue markers for Official GeoTours and red dots for all other GeoTrails. When you click on the marker, a box will appear that displays all the pertinent information: name, example GC code, primary city, primary state/province, country, official GeoTour (yes or no), URL, reward type, creation date and minimum caches for reward.
There is also a link to the Groundspeak Forums which includes a specific section to discuss GeoTours & Reward Geotrails
Rescource #2: GeoTours & GeoTrails – The Perfect Combination Of Travel And Geocaching
This resource is provided on the Peanuts or Pretzels travel blog. For the United States, there is a clickable map. After you select the state you are interested in, you'll see a  page for that area of the country with a list of links by state. You will also find other helpful resources related to traveling in that area.
For all other countries there is not a map, but there is a list of International GeoTours and GeoTrails by country.
We hope this information is helpful and has gotten you excited about finding a GeoTour or GeoTrail near you. It will be an amazing experience and there just might be a reward at the end!